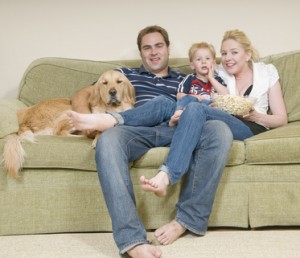 Modern cleans all upholstery in your home. From couches and recliners to dining room chairs.
Our Technicians have been trained to bring your furniture back to life using the proper tools and cleaning agents. I consider our service the best value because we include a scotchguard like fabric protector in our price.
Our five step upholstery cleaning process cleans your furniture and fabrics without damaging them. Every step helps get your items cleaner and helps them stay cleaner longer.
Step 1
Pre­-Vacuum
We use a handheld upholstery vacuum with a power brush to remove fine dust and hairs from the furniture, we are the only company that uses this type of vacuum for furniture. Pre-Vacuuming is very important during furniture cleaning.
Step 2
Cleaning agent
We apply a specialty cleaning agent for upholstery on your items. This cleaner is designed to dissolve organic oils from your skin and from pets that are causing your furniture to attract dirt.
Step 3
Scrubbing
A quality cleaning agent isn't enough to remove to buildup of oil in your furniture. After applying the cleaning agent we hand scrub every item using a horse hair brush that is safe for your furniture.
Step 4
Rinsing
After the furniture is scrubbed we rinse out all the oils and soil from your upholstery. Powerful truck-mounts remove over 90% of the moisture used allowing your clean upholstery to dry fast.
Step 5
Stain-guard Protector
Upholstery has more contact with oils off of skin and pets than any other surface. We apply a stain guard protector to every piece of furniture we clean. This stain guard protector helps the furniture resist getting dirty and stay clean longer.